Each team member plays an important role
When it comes to your diabetes care, it may help to know you are not alone. It also may help to know whom to turn to for support when you need it. After all, managing your diet, exercise, and blood sugar monitoring and staying on top of your appointments, treatment, and changes in your overall diabetes management plan can be overwhelming.
Having the right team behind you can help you face the road ahead. That can mean the support from healthcare professionals as well as your friends, family, and loved ones, who can be a source of support and inspiration along the way. To hear about how one TeamingUp Champion and her family are teaming up to manage diabetes, watch this video.
To understand the role each member can play on your diabetes care team, here's a look at how they can help.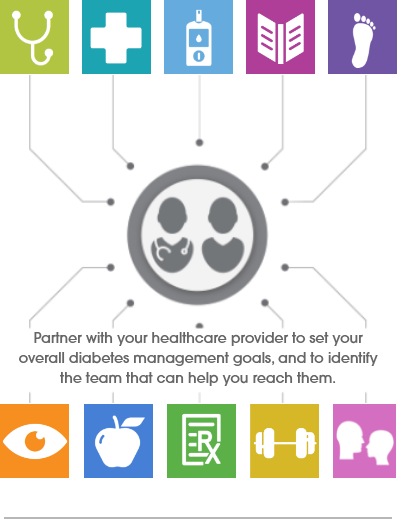 Primary Healthcare Provider
Usually the first one you call when you're under the weather, your primary healthcare provider may also coordinate your diabetes care. Your primary health care provider has a good working knowledge of diabetes and will know when and if you need a referral to a specialist.
Check Up, But Also Check In
You should see your primary healthcare provider for an annual checkup, at which he or she will check on how you're doing generally and may highlight any causes for concern. You should also see your primary healthcare provider if anything unexpected comes up that you aren't already seeing a specialist for.
Got A Pencil?
Here are some questions you may want to ask your primary healthcare provider at your upcoming visit.

Nurse Practitioner/Physician's Assistant
A nurse practitioner (NP) or physician's assistant (PA) may be your primary healthcare provider, and can guide your care. An NP is a registered nurse (RN) and a PA is a licensed medical professional who works with physicians. Both may have special training and backgrounds in caring for and teaching people with diabetes. Many are also Certified Diabetes Educators (CDE),* and some may have a master's degree.

*"Certified Diabetes Educator" and "CDE" are certification marks owned and registered by the National Certification Board for Diabetes Educators (NCBDE). The NCBDE is not affiliated in any way with Sanofi US. The NCBDE does not sponsor or endorse any diabetes-related products or services.

Good Questions (To Ask Your NP Or PA)
Do you have experience working with other people who have diabetes?

Will you refer me to another diabetes specialist if I require specialty care?

For more good questions to ask, check out this discussion guide

.
Let's Talk
Before your next visit with your healthcare team, check out these conversation starters.

Diabetologist/Endocrinologist
A diabetologist is a specialist who has in-depth knowledge about diabetes and how to manage it. An endocrinologist has advanced training in diabetes and endocrine gland function, and treats people with diabetes, as well as people with other illnesses that involve hormones or glands. These healthcare providers are likely to know about the latest advances in diabetes care.
Did You Know?
Endocrinologists typically treat more diabetes patients than primary healthcare providers do. Diabetologists only treat people with diabetes.
Medication Education
Endocrinologists and diabetologists are also experts on the variety of medications that can be used to treat diabetes. Learn about the types of medications used to treat diabetes.

A Certified Diabetes Care and Education Specialist (CDCES)
1. Provide tips, resources and support that can make living with diabetes simpler
2. Work with you to develop a healthy eating plan
3. Create an exercise plan designed to meet your fitness goals
4. Show you how to take your medication as prescribed
5. Teach you how to check and track your blood sugar levels regularly
6. Help you prepare for discussions with your doctor
7. Troubleshoot your treatment plan when you run into challenges
8. Help reduce the risk of long-term complications
9. Develop coping strategies for living with diabetes day to day
10. Offer ongoing support and encouragement
Always talk with your doctor before making any changes to your diet, exercise, or treatment plan.

Podiatrist/Foot Care Specialist
A podiatrist is a doctor who cares for your feet, protecting you from diabetes-related foot injuries. That's because diabetes can interfere with blood flow to your feet, which can result in wounds that won't heal or other skin and nerve problems. Podiatrists check to ensure that your feet are healthy.
How Podiatrists Treat Feet
They take care of corns, calluses, sores, or wounds on your feet, or problems with toenails that are hard to cut.
Coach Tip
Take your feet into your own hands: Look them over daily for cuts, blisters, and bruises.
Ask Your Doctor
To find a podiatrist near you, ask your primary healthcare provider for a recommendation.

Eye Care Professional (Ophthalmologist Or Optometrist)
There's more to this expert than meets the eye. Different from an optician, who provides you with eyeglasses or contact lenses, an ophthalmologist or optometrist can treat and diagnose diabetes-related eye problems.

What To Expect
A dilated eye exam at least once a year

An examination of your eyes for damage to the blood vessels in the retina (also called diabetic retinopathy)
Coach Tip
Schedule your eye exam appointment once a year in your birthday month so you don't forget.

Dietitian/Nutritionist
It's not about dieting. It's about having a diet that's made up of healthy, nutritious foods you enjoy! That's where a dietitian or nutritionist comes in. They can help you understand nutrition, and how the food you eat affects your blood sugar and interacts with your medications.
Good To Know
The letters "RD" (registered dietitian) signify licensure by the American Dietetic Association. Some dietitians are also Certified Diabetes Educators.
Coach Tip
A dietitian can develop a healthy eating plan that addresses your diabetes and includes the kinds of foods you like to eat.
Ask A Dietitian
Can a tomato raise my blood sugar numbers? (It's a fruit, in case you didn't know.)

Is it better for my blood sugar if I eat buttered toast with an egg or without?

Is there more nutrition in an apple than in applesauce?

Pharmacist
You know your pharmacist as the person who dispenses your medicine. But did you know that your pharmacist can also dispense helpful patient educational materials about diabetes care? Just ask! Pharmacists are experts on how medications work and interact with each other. They can also give advice on how you might feel when starting a new medication; many are also Certified Diabetes Care and Education Specialist (CDCES). They'll even work with your primary healthcare provider to make sure that the diabetes medications you're taking for diabetes are right for you.
Ask Away
Be sure to ask your pharmacist for the latest education information on diabetes.

Exercise Specialist/Personal Trainer
Uncomfortable about joining a gym? You can work out with an exercise specialist at home, at a physical rehab center, even at an outpatient exercise facility at your local hospital. Exercise physiologists and personal trainers can develop personalized plans that safely help you increase strength and stamina. Working with your other healthcare providers, they modify your plan over time to keep the healthy balance between your activity, food, and medications. Be sure to check with your healthcare provider before changing your exercise plan.
Coach Tip
Make sure your trainer knows the signs of low blood sugar, and what to do if you develop low blood sugar while working out.

Mental Health Professional
Taking on the day-to-day challenges of diabetes can sometimes seem overwhelming. It takes a lot of courage to admit that you can't do everything by yourself. Asking for help shows that you're serious about the management of your diabetes.
Counselors, social workers, and psychologists can offer one-to-one "talk therapy," which allows you to share your feelings and concerns. They can also offer certain types of "behavior therapy," which teach you coping skills and healthy ways of dealing with stress and anxiety. Psychiatrists are medical doctors who may prescribe medications for depression and anxiety.
How They Can Help:
Teach basic coping skills

Help you manage stress

Deal with feelings of sadness

Counsel you on dealing with diabetes

Help you work through a specific mental health issue

Determine if you may need an antidepressant or anxiety medication
Where To Turn For Help
For confidential, discreet help with emotional and psychological concerns, ask your primary healthcare provider for a recommendation.