It's midafternoon: You've got a few more hours to work and need just a nibble to hold you over until dinner…
You're leaving work, headed to the gym, but know you'll need to power up with protein to get you through your workout…
You've had dinner, but you've got a hankering for a treat to satisfy your sweet tooth before your head hits the pillow…
Your reasons to snack may vary: One might help keep your blood sugar in target range while another helps fill in nutrition gaps in your meal plan. Other snacks might get you through your exercise routine or help you deal with delayed meals due to a hectic schedule. Be sure to talk to your healthcare provider or nutritionist about any changes to your diet and exercise.
5 Tips for Snacking
1. Choose nutrition-savvy foods
2. Make sure your choices fit your meal plan
3. Stay within your daily calorie counts
4. Buy food for snacking as part of your regular shopping
5. Pre-portion healthy snacks to make grab and go easy

Yes, we agree: Easier said than done! Snacks available in the usual places—vending machines and convenience stores—are often high in fat, refined carbohydrates, calories, and sodium. The opposite of nutritious! So, to have healthy snacks at the ready, read on for quick and easy-to-fix snacks to fit different needs, wants, and desires.
We suggest that when you do get the urge to snack, try different options from each category. But on different days, of course. That way, you'll fight off boredom as you fight off hunger, and may be less tempted to cheat.

From the TeamingUp Kitchen:
Power Up with Protein
Strategy: Stay satisfied until your next meal while you keep the carbs low.
Calorie Count: 150–250*
Snacks in a Snap:
1/2 cup cottage cheese topped with 2 tbsp nuts (mixed nuts or slivered almonds), dash of cinnamon
2 tbsp peanut butter or olive tapenade + 2 large thin (3/4 oz.) whole-grain crackers
2 pieces (2 oz.) string cheese + 1/2 large apple or 5–8 cherry or grape tomatoes
1 hard-boiled egg sliced or chopped, and mixed with 2 tsp mayonnaise. Eat on its own or use it as a dip with celery sticks or baby carrots
2 oz. lean turkey breast or 1 oz. turkey + 1 oz. sliced cheese on 1 slice whole-wheat bread (moisten bread with thin slices of avocado and/or mustard)
1/2 cup mixed nuts (make your own nut combo from the nuts you enjoy)
Plan ahead and make sure your healthy snacks go with you, in pre-portioned amount
Fit in Fruit or Vegetables
Strategy: Help meet your fruit and vegetable needs.
Calorie Count: 50–150*
Snacks in a Snap:
1 medium-to-large apple, orange, or banana (easy to carry!)
1 cup of berries topped with 1/4 cup 2% cottage cheese or 1/3 cup plain or Greek nonfat yogurt
Dried fruit: 4 tbsp raisins + 3 figs + 6 dates + 12 apricot halves + 4 tbsp cranberries, or mix half this amount of dried fruit with 1/4 cup of nuts
Fruit-to-go: 1–2 1/2 cup plastic container or can of fruit in plastic container or applesauce (no sugar added)
1 cup raw vegetables (choose from celery sticks, baby carrots, cherry tomatoes, jicama sticks, and sugar snap peas) + 2 tbsp regular salad dressing or 4 tbsp reduced-fat salad dressing, or make a healthier dip with 4 tbsp of plain or Greek nonfat yogurt or 2% cottage cheese mixed with herbs and spices
1/4 cup hummus + 1 cup raw vegetables (see above)
Need Just a Nibble
Strategy: Satisfy the need to crunch with a minimum of calories.
Calorie Count: 50–150*
Snacks in a Snap:
3–5 cups plain popped popcorn
1/2 cup roasted edamame or chickpeas
1/4 cup wasabi-coated peas
1 oz. whole-wheat pretzels (any type)
1/4 cup nuts (any type or mix)
1/2–3/4 cup olives (any type)
1 oz. baked tortilla chips + 4 tbsp tomato-based salsa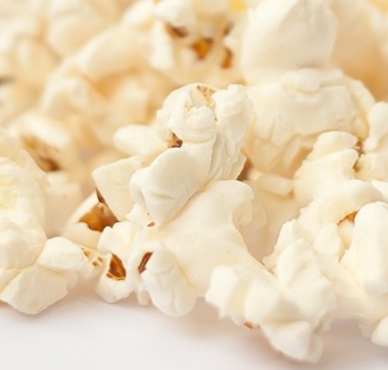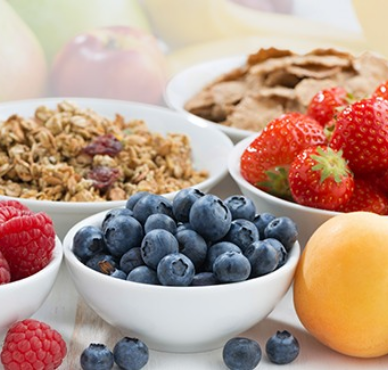 Energy Boost with Healthy Carbs
Strategy: Supply your body with ready-to-use energy.
Calorie Count: 150–250*
Snacks in a Snap:
Cereal (1/2 cup flake type, 1/4 cup granola type) + 1/2 cup plain or Greek nonfat yogurt or 1/2 cup 2% cottage cheese or 1 cup fat-free milk
1/2 medium apple, sliced + 2 tbsp peanut butter or 2 oz. cheddar cheese
1/2 large banana, sliced + 1 tbsp peanut butter on 1 whole-wheat "thin"
1/4 cup hummus + 3 whole-wheat pretzel rods
Make-your-own trail mix with cereal (1/4 cup granola type) + 1/4 cup nuts + 2 tbsp dried fruit
Satisfy a Sweet Tooth
Strategy: Satisfy your craving for a sweet treat.
Calorie Count: 100–200*
Snacks in a Snap:
Hot cocoa (either 1 package no-sugar-added or make it yourself with 1 cup fat-free milk + 2 tbsp cocoa + no-calorie sweetener) + 4 ginger snaps or 2 (1/2-inch square) graham crackers
1/2 cup plain or Greek nonfat yogurt with drizzle of honey or fruit-only jam + 3/4 cup berries
1 serving frozen "novelty" dessert (e.g., sugar-free chocolate pop or ice cream sandwich)
1 oz. dark chocolate
1 medium banana frozen and rolled in 2 tbsp cocoa or dipped in 2 tbsp chocolate syrup