Summer's here, bursting with fresh fruits and vegetables! It's the perfect time to rev up your healthy eating plan with these nutrition powerhouses. Here are some easy, make-ahead lunches you can take anywhere — picnics, summer outings, and of course, the office. As always, remember to check with your healthcare team before making any changes to your meal plan.
It's the perfect time to rev up your healthy eating plan
Chill out with chilled soups
An ideal choice for a hot summer day, chilled veggie soups are easy to make and they're packed with vitamins and anti-oxidants. Try low-carb options like gazpacho, cucumber or zucchini soup. Add quinoa, cooked lean meat, fish or poultry for a little extra protein to see you through to dinnertime.
Here's a crisp idea
Salads are a great staple on a low-carb diet, but they can get soggy by lunchtime. To avoid the noontime wilt, pack them in canning jars. Layer the salad dressing at the bottom, and then add firmer, less absorbent ingredients on top of the dressing, such as tomatoes and peppers. This protects the more delicate ingredients, such as lettuce, from getting drenched and soggy before you're ready to eat.
It's a wrap
Lose the fork and knife and just roll up your favorite lunch in a wrap and go! If you're not familiar with sandwich wraps, they're usually soft flatbreads in wheat, corn, or flour that you can fill with a variety of healthy choices from chicken salad to grilled veggies and goat cheese. Look for the words "low-carb" or "reduced-carb" on the package and always check the nutrition label for the exact carb count. Better yet, substitute rice paper, lettuce or other big leafy greens for flatbreads. They're low in calories and carbs and high in vitamins. Tip: For lettuce wraps, keep the lettuce and fillings separate until you're ready to eat so they don't get soggy.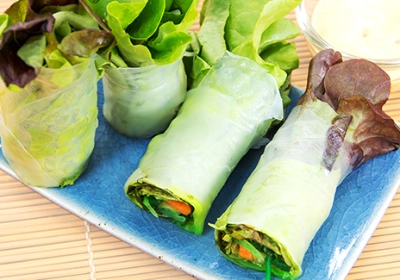 Think inside the Bento box
Like to nibble on a little of this and a little of that? Pack your next lunch in a Japanese Bento box! It's a special food container with compartments that help you store a variety of foods without mixing the flavors. Pack hard-boiled eggs or your favorite lunchmeats and cheeses, along with nuts, fresh fruit, veggies and a healthy dip.
Berry smooth
If you've never made a smoothie at home, summer is a great time to start. Just mix your ingredients in your blender, and you've got a meal in minutes! For a refreshing summer treat, use fresh berries, and sneak in a serving of vegetables, too. Kale, spinach and avocado all blend up well with yogurt and berries. If you like, add some protein powder or chia seeds for a more satisfying treat. Coach tip: Make a big smoothie in the morning, have some for breakfast and pour the rest into a glass jar or an insulated thermos to take with you.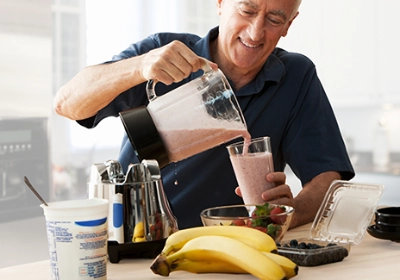 These are just a few ways you can add the best of the season to your lunches. Summer's fresh produce won't last forever, so get going today and discover your own shortcuts.