Yes, summer is ending. But there's still a lot to look forward to, like delicious fall fruit that's now in season. Fruits are not only tasty, but also nutritious. They're packed with fiber, vitamins, and minerals. Here are some of the best that fall has to offer. You may know that fall is the season for great apples, but did you know these other fruits are also in their prime in the fall? Maybe this fall try a new fall fruit!
Grapes
Easy to eat and delicious, grapes are very versatile. Add them to chicken salad for a touch of sweetness. Or you could thread them on toothpicks with reduced-fat cheese for a fun snack.
• 50 calories • 14g carbohydrates

Guava
Eating guava is a great way to get your vitamin C. One medium guava has the recommended amount of vitamin C for a full day! Try it cut into bite-sized pieces. For a fancy dessert, poach guava halves in water spiked with sweetener, vanilla, cinnamon, and cloves.
• 55 calories • 12g carbohydrates

Kumquat
They may look like bite-sized oranges, but you can eat them like grapes—skin and all. Plus, each kumquat has over a gram of fiber. So eat up!
• 70 calories • 16g carbohydrates

Pineapple
How can you tell when a pineapple is ripe? Look for one that has a sweet, fruity scent on the bottom.
• 40 calories • 11g carbohydrates

Persimmon
A ripe persimmon should be plump, glossy, and brightly colored. Peel it to enjoy it alone or in salads.
• 60 calories • 16g carbohydrates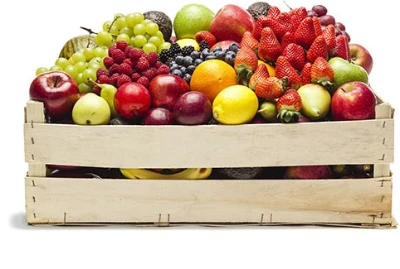 Try something different this fall. Enjoy these in-season fruits!

Talk with your doctor before making any changes to your diet.